A praise report from Ecuador
6th June
We've received the following praise report from Blanca Garcia, one of our Ecuadorian project directors. Join her in giving thanks for all those who donated to the Ecuador Earthquake Fund. Thanks to the generosity of supporters, our partner churches were able to distribute food supplies and safe water in the aftermath of the disaster and they've begun to provide group counselling and psychological support to children and their families.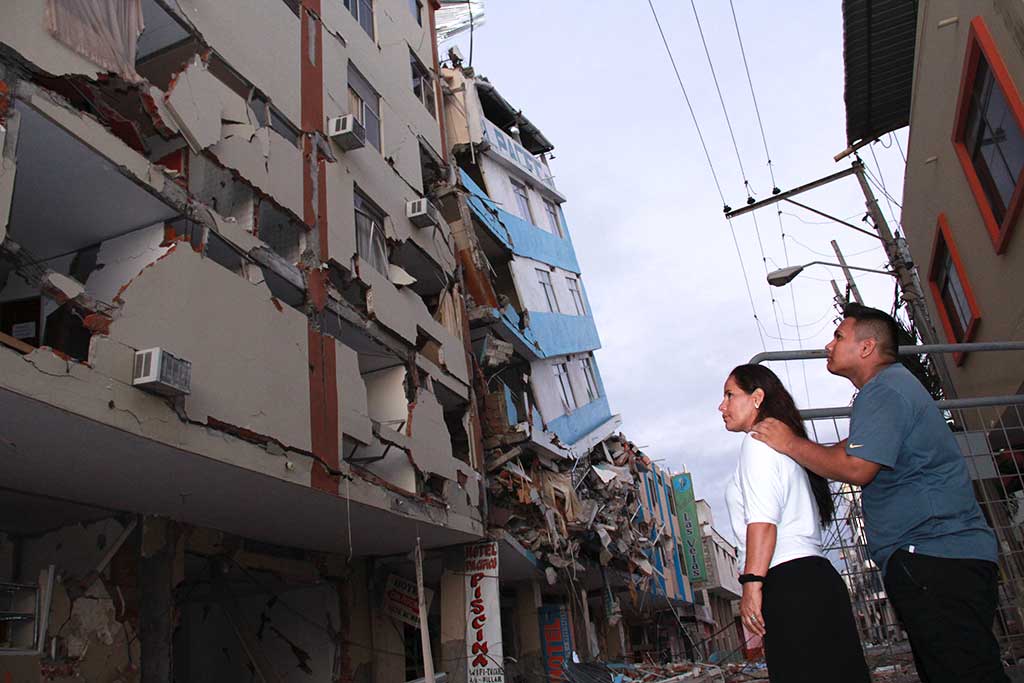 Blanca and her son look up at the apartment block where they used to live.
"Everything was normal and we were happy out on the terrace when all of a sudden, we felt things move. I said, 'It's just an earthquake and it'll pass quickly.' Then it all started happening — the building turned into a hammock and the cistern on the balcony began to shoot out water. Then it broke and the water poured down on us. My daughter-in-law started to run down the stairs, but I was able to grab her by the hair and hold her back. If she'd gone down, the stairway wall would have crushed and killed her when it fell in. I asked God for mercy and I thought, 'We're going to die here. We're not going to get out of this alive.'
The city of Manta was devastated; the Tarqui community where I used to live was devastated. Buildings, two schools and several factories all fell down. The utility poles fell down and the sewer lines burst open.
We're thankful to God for all Compassion is doing. I cried when I saw the containers arrive with baskets and letters children had written to encourage us. I said, 'Lord, it's amazing how people have united, how they have cared about us. I think children have used their lunch money to be able to send us what other children need.'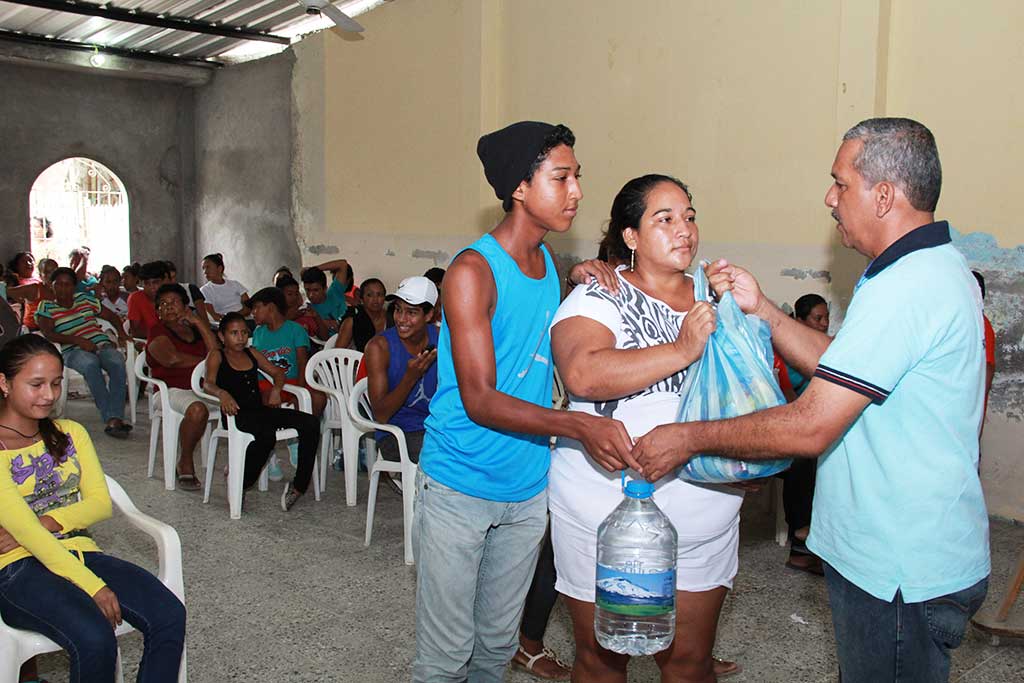 Pastor Gabriel Junco hands out supplies to families in his community.
We've gone to children's houses that have been left without roofs or walls and have found them there crying. It's very sad and very painful. The children desperately need support, and that's what we've been able to give."
Please continue to pray for children and their families as they recover from the earthquake that struck on the 16 April and the aftershocks on the 18 May.
Pray for Compassion project workers like Blanca as they support and comfort children.
Ask God to use the counselling sessions to give peace to those who are struggling to process the traumatic events.  
20 May
Continue to pray for those affected by the earthquakes in Ecuador. Pray for the emotional recovery of children, families and our church partners. Lift up those affected by the two further quakes on Wednesday.
Compassion Ecuador specifically ask us to pray for job opportunities for parents. Many work as fishermen or informal vendors and have been struggling to find work since the April earthquake. Join us in praying for the local economies to recover quickly.
5th May
Pray for the thousands living in temporary shelters in Ecuador following the earthquake on April 16. According to government figures, 22,400 are staying in makeshift shelters after their homes were destroyed. Please pray for God's provision for those who have lost both homes and livelihoods.
The death toll has now risen to 660 with 33 people still missing.
26th April
The Compassion Ecuador team have asked us to pray for:
The continued recovery efforts. Pray for supplies to reach remote rural areas.
Children and families who have been directly affected. Please pray for God to comfort those who are mourning. Pray for the families of the two sponsored children who lost their lives.
Compassion field staff as they provide support and vital supplies to those who have been impacted.
Our church partners as they care for children and families as well as recovering themselves.
"Even though I walk through the darkest valley,
I will fear no evil, for you are with me;
your rod and your staff, they comfort me." Psalm 23: 1-4
19th April
Please continue to pray for all those affected by Saturday's earthquake. Compassion Ecuador Country Director, Fernando Puga, asks us to pray for:
The Compassion Ecuador team as they distribute food and emergency supplies to children and their families. Ask that they would bring God's comfort to those who are facing great loss and trauma.
The 13,000 sponsored children who live in the impacted areas.
The Ecuadorian government as they provide temporary shelters and emergency medical care.
The thousands of children who live in the central coastal region and have lost homes or loved ones.
18th April
Please join us in praying for Ecuador:
Please pray for the ongoing rescue efforts. Pray for those who are still trapped under the rubble of collapsed buildings to be recovered quickly.
As the death toll rises to 272, ask God to comfort all those who are mourning the loss of friends and relatives. 
Pray that those who are injured will receive the treatment they need and recover quickly. Vice President Jorge Glas had estimated that the number is at least 2,500.
Pray for provision for those who have lost homes and livelihoods. Compassion Ecuador has sent us an update this morning giving details of temporary shelters the government has set up in Esmeraldas, Los Ríos and Portoviejo.
Please pray for Compassion Ecuador staff as they will be working around the clock to find and support families, as well as worrying about their own families. Pray for strength, stamina and courage.