Flooding in Chennai and Tamil Nadu
29 March
Following the devastating flooding last November and December, please pray for the rebuilding process in Chennai and other areas of Tamil Nadu. Ask for God's provision as communities recover and seek to restore vital infrastructure and amenities. 
25 Compassion projects were affected and staff are now working hard to help families rebuild their homes and livelihoods. Please pray for the thousands of sponsored children who have lost school supplies and household items. 
December 9
We praise God that Chennai has not had rain in the last four days, allowing floodwaters to recede in some areas. The clean up operation has begun and the Indian Army has rescued more than 28,000 people stranded by flooding. 
The Compassion India office has reopened and resumed activities. Compassion church partners are providing food, water and other basic supplies. Project staff are helping with the clean up and educating people about how to avoid waterborne illnesses. 
Please continue to pray for all those who have lost homes and livelihoods.
December 3
Chennai continues to suffer from record-breaking and deadly floodwaters. 18 Compassion projects have been affected. Praise God that the families and children are safe having been evacuated.
However, water has entered the houses of more than 1,000 sponsored children and there is widespread devastation in the region. As Compassion's Jayaseelan Enos describes, "We desperately need your prayers for the city of Chennai and the other flood affected regions. Read his full report.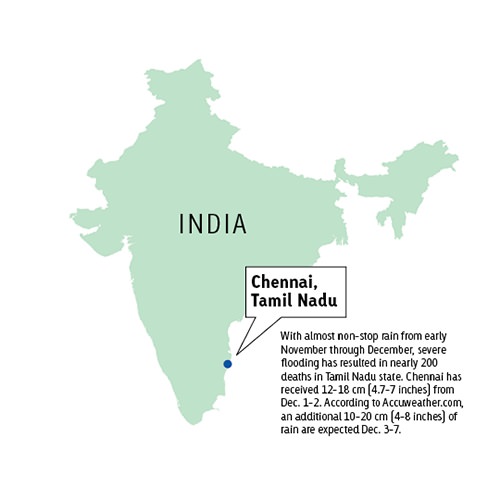 November 18
Incessant rain has caused severe flooding in many parts of Chennai. Trains and flights have been cancelled and schools and colleges have been closed. 
According to the local news channel, there have been 60 fatalities so far. The government is providing shelter for the many people who have been evacuated.  
Please pray for a change in the weather conditions. Currently, the forecast is for heavy rains over the next few days.
Pray for the safety of sponsored children and their families.