I'd never expected to spend my first day as CEO in Ecuador.
If I'm being completely honest, when I was asked to go and speak at a Compassion graduation I was hesitant. With stepping into a new role, things were busy and I knew there was so much to be getting on with back in the UK. My gut reaction was I could do without this trip. But obviously God knew differently.
When the 7.8 magnitude earthquake struck Ecuador in April, and the Compassion disaster report came into my inbox, one line immediately stood out to me. At that point I didn't know anything about the life behind that line.
I just saw a name: Benjamin, a name shared by one of my sons. I saw an age: 6 years old. I saw that this disaster had shattered the little lad's world: he had lost two siblings and both parents. Finally, I read that Benjamin didn't have a sponsor.
With everything else going on in his life, the last thing he needed was to be waiting for a sponsor. I got in contact with a colleague and said I'd be delighted to sponsor him.
Fast forward a few weeks and I'm on the trip that I was initially reluctant to go on. I'm sitting with this lad whose name is Benjamin and I have the privilege of hearing his story and learning of the injustice his family has faced: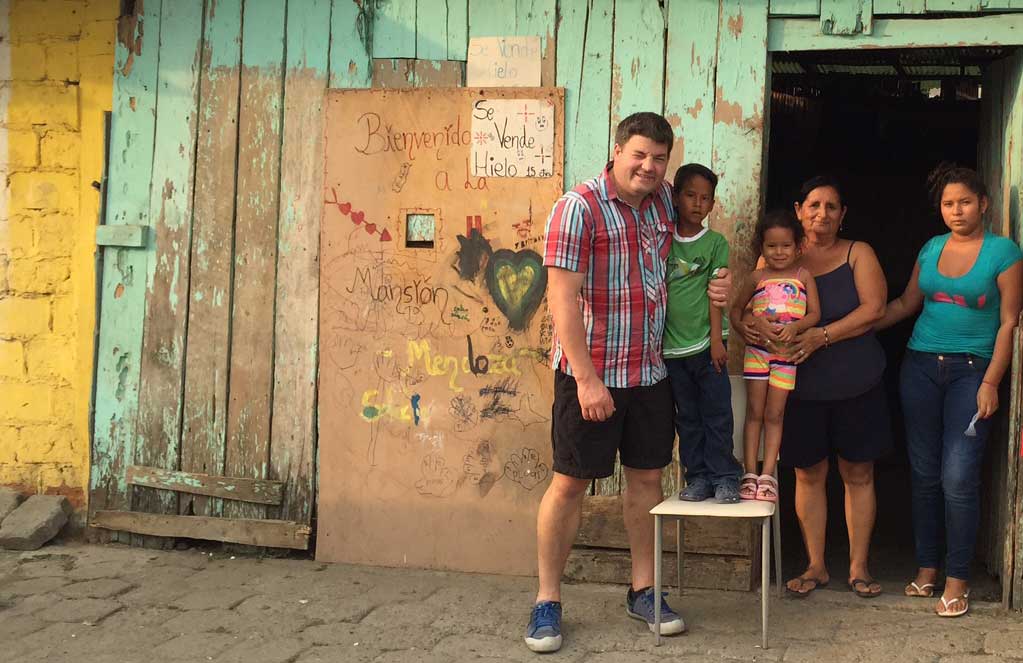 Outside the house where Benjamin is staying with his grandmother.
Benjamin's father was a good man who loved his kids. He was an artist who made high-end gifts to sell to tourists. Much of his business was through a local hotel owner who'd had great success selling his work but was then refusing to pay him. It had got to the point where Benjamin's father could no longer afford to buy raw materials.
In Benjamin's community the houses are built on stilts because the land floods. The timber is untreated so every 4-5 years the stilts rot through and need replacing. This year, being an El Nino year, the rains were harsher than normal and the home was washed away in the floods. Benjamin's house was completely destroyed.
Benjamin's father approached the hotel owner and explained his family's situation. If you're not going to pay me, my family needs a break. We've never had a holiday so I'm going to come and stay in your hotel with my family. At the end of the week you'll pay me the rest of the money so I can rebuild my house.
The end of the week came, but still the hotel owner didn't have the money. He claimed he needed one more day. And it was on that day that the earthquake hit.
The family were staying on the top floor of the hotel. Benjamin and his sister Zara described to me that as soon as the room began to shake, they ran to the door. They didn't know what was happening. The building collapsed on top of the family. Benjamin's mum, dad and two siblings were killed instantly. Benjamin only survived because his cousin, Brian, dived on top of him to protect him from a falling concrete beam.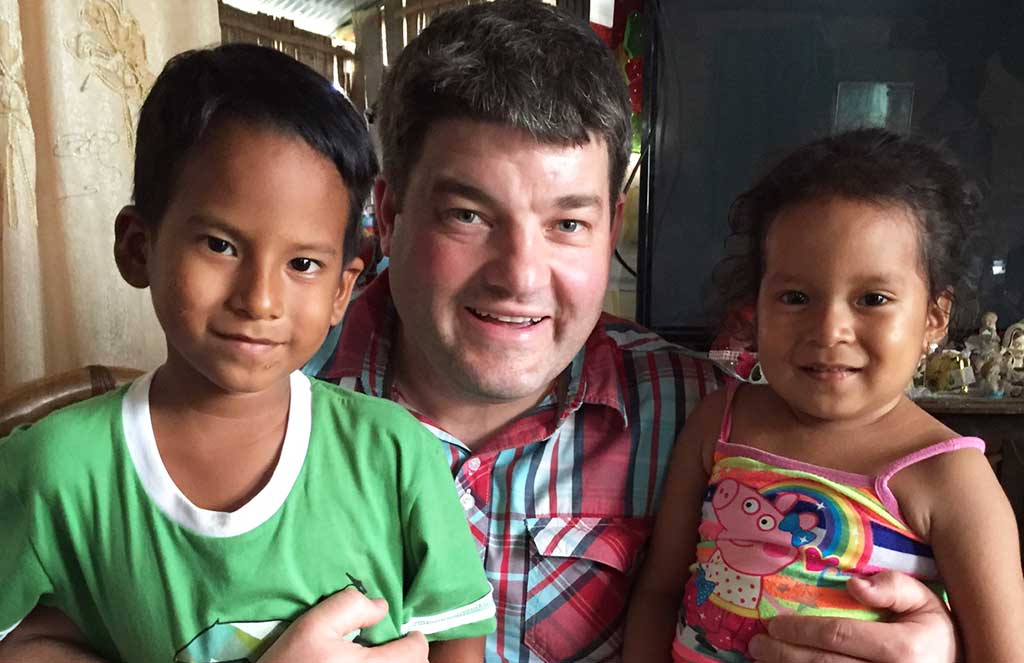 With Benjamin and his youngest sister Sam.
It was humbling to spend time with Benjamin and the three sisters who were prised from the rubble by rescuers hours after the quake. I was greatly encouraged to hear how Benjamin's Compassion project and local church have been supporting the family. Benjamin and his siblings have received medical support and they're starting counselling. The project staff team have been a constant support during the last few months. Indeed as I sat with Benjamin in his grandmother's home, members of the local church visited with a food parcel. The injustice of the situation is deeply upsetting, but in the midst of the story is a local church reaching the most vulnerable; they are treating Benjamin and his sisters as their own.
Once again, God broke my heart for the mission of this ministry: reaching the most vulnerable children in poverty. I was deeply challenged by the fact I was unsure about going on the trip —that I had thought there was something more important I could be doing on my first day as a CEO.
There isn't anything more important. Children like Benjamin who we serve must always remain our priority.
Pray for Benjamin and his family
WORDS
Justin Dowds
PHOTOS
Compassion International
---
COMMENTS
5 Comments
---
---
Article Comments
You must be logged in to post a comment.