Update: Pray for the Caribbean as Hurricane Irma intensifies
12 SEPTEMBER 2017
Update on Haiti
The sun was shining in Haiti today, and they have begun cleaning up after Hurricane Irma.
3,145 Compassion-supported children are affected. Unfortunately, one child lost a caregiver due to the disaster.
9 Church partners have been affected in total, but all have resumed limited activities.
Our Field office leadership have taken measures to provide affected children with basic assistance to meet their immediate and long term needs. They have provided food and hygiene kits to over 1,000 beneficiaries in the most affected communities.
Please pray that the child whose caregiver died will receive comfort and support as they grieve.
Update on the Dominican Republic
Two teams of field office staff from the Dominican Republic travelled to the affected areas in their country over the weekend. The actual number of Compassion-supported children and their families who evacuated to shelters and other homes was 255.
Partnership facilitators are working with Church partners to assess the impact on their communities. They estimate just over 200 families will need assistance with basic supplies.
11 SEPTEMBER 2017
Update on Haiti
The regions most affected are the north, northeast, northwest, Artibonite and the central plateau. These areas experienced heavy rains and flooding. Some had roofs destroyed, as well as farms and cattle swept away by flooding. Several sections of main road were also destroyed, including an ancient bridge that connected Haiti to the Dominican Republic. 
So far 641 Compassion-supported children are affected.
Over the weekend local field teams began working on contacting each registered child and assess the impact and their needs.  The RESPOND teams have established temporary shelters, accommodating more than 267 Compassion-supported children in the affected regions.  Each Church partner has arranged to provide those affected with food, water and medicine.
Please pray for health, safety, strength and provision for our church partners and beneficiaries in the affected areas. 
We will contact you directly if your sponsored child has been impacted. 
8 SEPTEMBER 2017
Category 5 Hurricane Irma is moving north of the Dominican Republic having caused widespread destruction across many islands across the Caribbean, reducing buildings to rubble and leaving at least 13 people dead.
Update on the Dominican Republic
The Emergency Operations Center reported that over 2,000 homes are affected.  As many as 4,200 people have been displaced from their homes and are staying in evacuation shelters.  Another 2,500+ are staying with family and friends.
The Disaster Response Team is currently at the office and following up with our Church partners as well as meeting with a representative from the Emergency Operations Center. The office building did not sustain any damage. As the hurricane turned slightly north before reaching the Dominican Republic, church partners and children in the southern part of the island are likely to not have experience major impact. Several Church partners are distributing food to families and have identified Compassion-supported families that have relocated to shelters, the church or relatives' homes. The Disaster Response Team expects to visit more church partners later today.
Update on Haiti
On Thursday night Irma crossed north of Haiti, causing less damage than had been feared. There were reports of some injuries and damage to buildings, but not widespread devastation.
Join us in praying for all the families, that they would find safe places to shelter and the impact would be minimal. We ask the prayer for protection for each one of them.
7 September 2017
Still a category five storm with sustained wind speeds of 180mph (290kph), Hurricane Irma is moving away from Puerto Rico and heading towards the Dominican Republic and Haiti, which it is forecast to hit today.
So far, eight people are reported to have died as the hurricane ripped through Barbuda, Anguilla and St Martin. Widespread damage has been caused across the islands already hit by the storm, with homes and critical facilities flattened, power failures and communications down. On Barbuda, the prime minister, Gaston Browne, said 90% of buildings had been destroyed and 60% of the population was homeless. The French part of St Martin was "95% destroyed", according to Daniel Gibb, a local official.*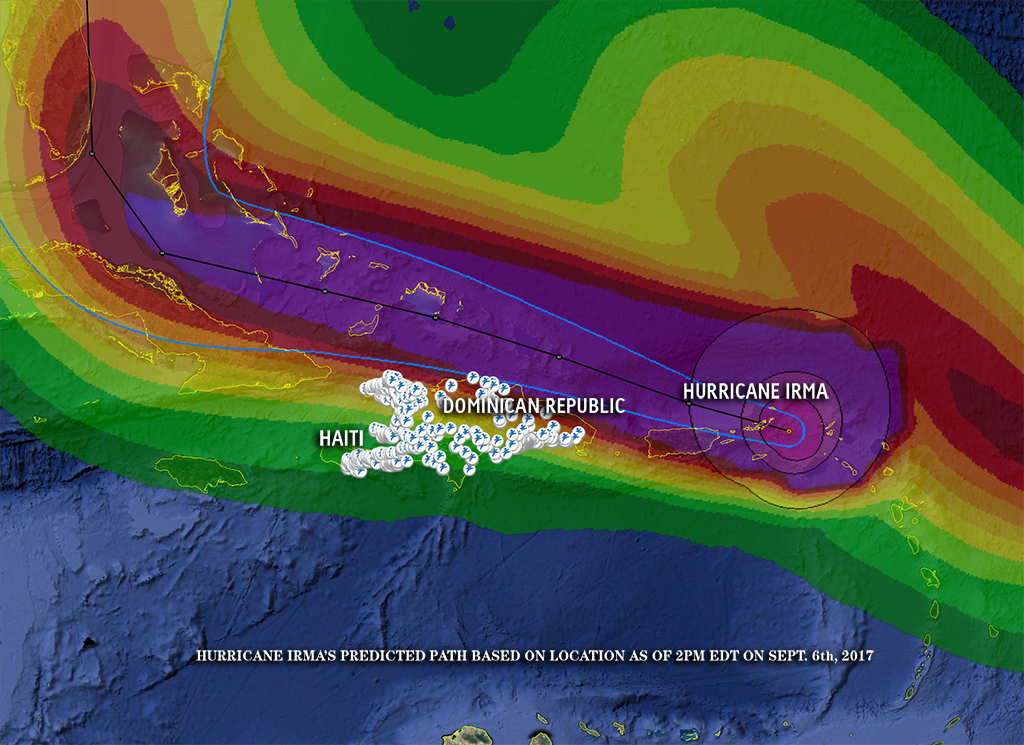 The US National Hurricane centre has issued its latest update and hurricane warnings remain in place for Dominican Republic, Haiti, south-eastern and central Bahamas, and the Turks and Caicos Islands. Irma's centre is currently passing "just north of Puerto Rico", moving west-north-west towards the Dominican Republic and Haiti. The map above shows the location of Compassion projects in Haiti and the Dominican Republic in relation to Irma's predicated path as of 2pm EDP September 6.
Please continue to pray for:
Children and families in the communities at risk.
Strength for our church partners.
Mercy and protection for the Dominican Republic and Haiti.

*Sources: National Hurricane Center Atlantic Operations, BBC, Guardian, CNN Storm Tracker
6 SEPTEMBER 2017
Hurricane Irma has been upgraded to a category five - the highest category. Irma now has sustained winds of 290km/h (180mph), making it the most powerful the Atlantic has seen in over a decade. Irma has been battering Barbuda and is heading to the Virgin Islands and Puerto Rico. Please join us in praying for all those in its path.
Update on Haiti
The latest forecasts predict that Irma will make landfall in Haiti at approximately 8:00am on September 7. Heavy rains are expected in the northern region, which will progressively spread over the whole country. The country is now under yellow alert and the population is very concerned. Compassion Haiti staff are working with our church partners to help children and families prepare.
They ask us to commit their country to the Lord in pray and ask for protection for children in vulnerable communities.
Update on the Dominican Republic
Compassion Dominican Republic held an emergency meeting on Monday to make preparations for Hurricane Irma. They are working closely with all our church partners and preparing a relief response if the hurricane makes landfall. 
4 September 2017
Hurricane Irma formed near the Cabo Verde Islands in the Atlantic Ocean and is classified as a "Cape Verde hurricane." These types of hurricanes are frequently some of the largest and most intense. Irma was classified as a Category 3 hurricane on Sunday evening and is expected to pick up strength over the next 48 hours. 
Haiti and the Dominican Republic are currently in the centre of many of the projected paths of the hurricane. Our church partners are therefore implementing disaster preparedness plans:
Informing families of the anticipated disaster.
Identifying safer areas to shelter during the storm.
Preparing emergency relief kits which commonly include water, food, hygiene items and temporary shelter.
Reading communication channels.
Please join us in praying that the path of the hurricane would avoid landfall and lessen in severity. Pray that if the hurricane makes landfall families would find safe places to shelter and the impact would be minimal.