"The only memory I have of my mother is one marked by struggle and misery. I remember her working all kinds of jobs to support me, her only son. She even had to beg to put food on the table.
My mum's only focus was being able to survive each day. Eating one meal a day was such a big deal that we treasured the times we ate.
Then, one day a neighbour told her about the possibility of me receiving support from the nearby church. That news changed the course of my life and sparked hope for my mother — hope that had been out of reach for a long time.
My name is Degsew. I'm 24 years old. I've had a rough journey in life but have come a long way.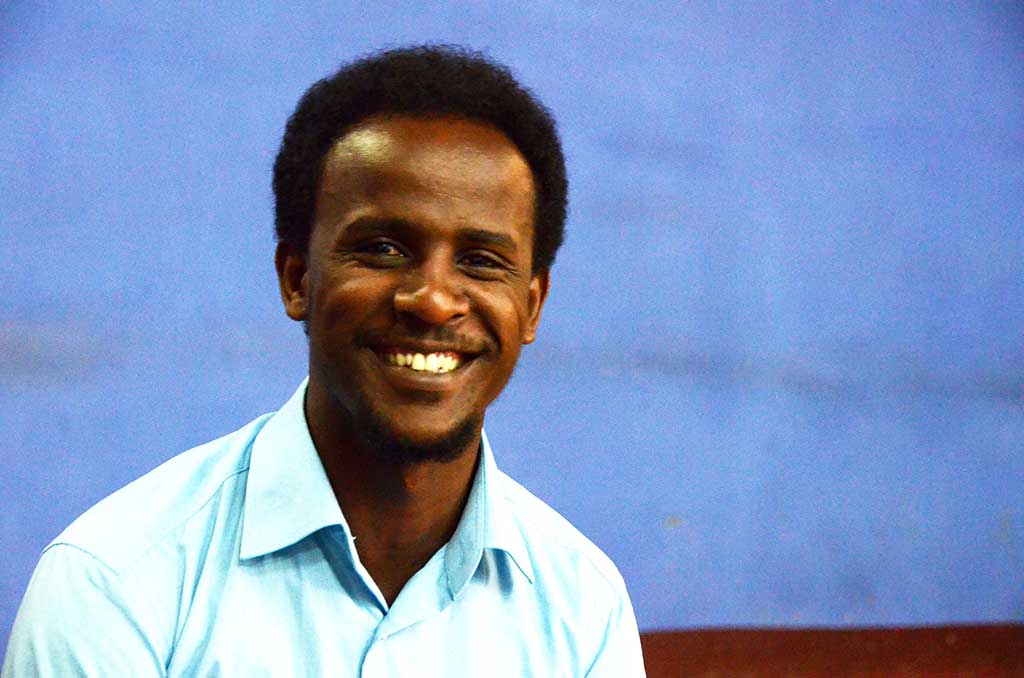 My life started when I joined the Child Sponsorship Programme. At the age of six I wore my first pair of shoes, I went to school for the first time, I went on my first field trip.
I had many "firsts" thanks to the project, but beyond these provisions, the fact that we got food and material support was what sustained us. Each and every thing that was done at the project had huge value for me.
When I was almost done with my classes in grade four, my mother passed away. She was the only family I had. I was left an orphan. She had TB, and the last time I saw her was when the neighbours carried her out of our house to take her to the hospital. Later that day, my neighbour told me of my mother's passing and that she was willing to take me in. She already had seven children, but she was willing to add one more.
Even though I was glad I had somewhere to stay, there were times I suffered during the two years I stayed with that family. I was given tasks that were hard to accomplish for my age, and I faced harsh consequences when I didn't meet their expectations.
I decided to run away.
I stayed on the streets for a couple of days and realised that it was not a place for me. I ran back to the only place where I knew I would be welcomed: I went to the church.
The project staff were shocked to hear what I was going through. They were unaware of my situation, since I acted as if everything was okay. They immediately talked with the church leaders and arranged for me to stay in one of the rooms in the church. They also paid for my meals. I lived like that for five months. During every Sunday service in that time, the church leaders asked if someone would adopt me, but no one showed interest. 
The project staff members' care and commitment carried me through the toughest times of my life. While I was living in the church, they came up with a plan. They decided that it was better for me to live with one of the boys in the project who was going through a similar situation. Gezahegn was older than me, but it was easy for us to become friends. We understood each other because of our experiences. The project rented us a house, and we started life as a child-headed household, getting support through Compassion's RESPOND fund. 
My priority has always been survival. School and spiritual matters were secondary. However, when I reached grade 10, Gezahegn—whom I accepted as my big brother—started to focus on his faith. He was changing, and I began witnessing his transformation every day. As he began to focus more on serving the Lord at the church, I began to aspire to be like him. When I was in grade 11, I made a personal decision to follow Jesus and started to become active in church. I look back today and clearly see the path God led me to be closer to Him and to transform my life.
When I passed the national examination that qualified me for higher education, I faced the most challenging decision of my life. I didn't have any dreams for my future while growing up. My only goal was surviving. When the time came for me to decide my field of study, it was difficult for me to choose. I consulted many people and finally made the decision to study law.
I look back at my life and I see God's provision through Compassion. I am very grateful for all the support. I have passed through a lot of hardship, but when I look back, I can say everything that has happened in my life is for good. I'm happy now. I'm even happier when I think about my tomorrow. I want to work hard to bring others out of poverty. I don't want what I passed through to be repeated in the lives of the current generation. 
My story could have ended a long time ago. But I'm here. I'm always in awe of how I reached here. God never failed me. Compassion is a home that God prepared for me. There is family in a home—a mother, a father and a brother. It is where I grew up and became somebody."
WORDS
Tigist Gizachew
PHOTOS
Tigist Gizachew
---
COMMENTS
No Comments
---
---
You must be logged in to post a comment.