Tim Huband recently visited his 3 sponsored children in the Philippines. Here are his daily accounts from the trip: 
Thursday 
I leave work in London and head out on the tube to Heathrow. It's late and the tube is not too busy - a good thing as my bag is heavy with "pasalubong". Pasalubong are gifts Filippinos traditionally give when visiting friends and relatives.

The plane takes off, the moon is shining and we are heading off to tomorrow and Manila.

Saturday 
In Tacloban, the town, airport and sea are all on a level – you can see why it was so badly hit in December 2013 by typhoon Yolanda, as it is known here. Haiyan is its name elsewhere. Tacloban is in better shape than I had imagined – a tribute to the agencies working here.

I'm greeted by Pastor Jimuel Dalina who is the deputy director of the Compassion project at Maydolong. He has a big smile and is a young chap of 32. He has lots of energy and ideas. The road up the coast to Maydolong was hard hit by Yolanda and then a year later again in December 2014 by its sibling typhoon, Ruby.
---
In most places the level of the land, road, beach, mangroves and the sea is all the same. The road is getting repaired but the bridges are still work in progress so it is a good 3½ hours to Maydolong .
---
We arrive at Maydolong – a small fishing village with one high street and roads leading down to the coast. The church and project are the prominent buildings with mothers, fathers and youngsters all milling around outside. Saturday morning is the day for the primary school aged children at the project and I have arrived just as they are.

It is great to see a church at the centre of things.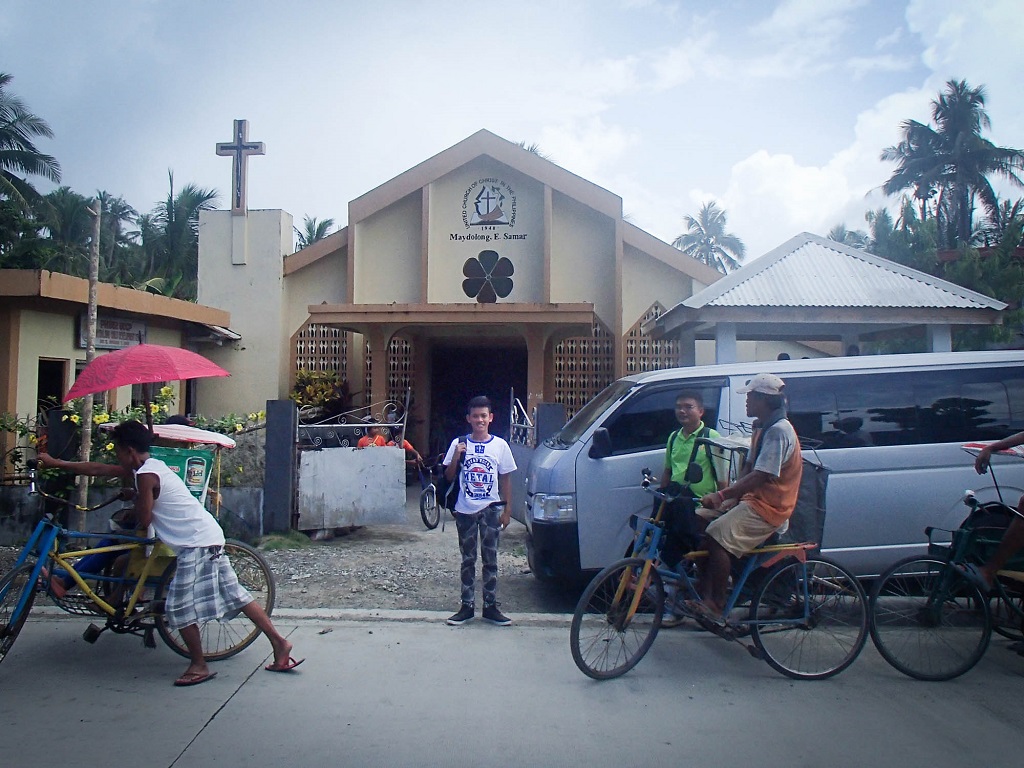 I spot my sponsored child Joshua who is leaning against a chair with members of the project team. We all introduce ourselves. Joshua is as cheerful and good natured as he is in his letters. He is a 15 year old guy and this is all a tad awkward for him. I have limited Tagolog and he is shy about using his English at first. One of the pastors translates for me.
I ask if I could see Joshua shoot some baskets? We walk through the Barangay to the obligatory basketball court, which is next to the sea. It dawns on me that the sea, basketball court and barangay are all on the same level.
---
For a moment sadness comes over me as I imagine the two hurricanes and the sea crashing through the bamboo houses. Pastor Jimuel explains that people took refuge in the church which is the most solid building in the area.
---
Can Joshua play basketball! I am incredulous. His little sister is pretty good too.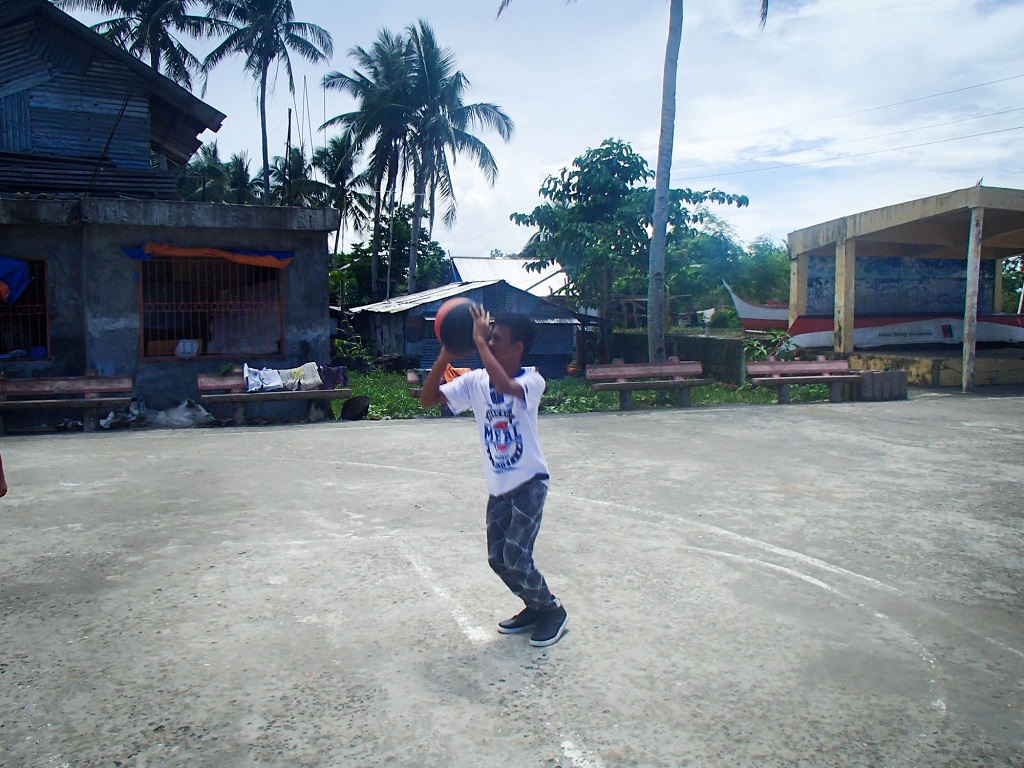 We visit Joshua's house, where we are greeted by Joshua's mum (who has prepared the most amazing pancakes!) and his sister Vixie (who is the same age as my youngest, Emma). 
The time comes for me to leave these good people. Joshua and I have a man hug. I am not good at goodbyes. I tell Joshua how great it has been for me to meet him. Even though I am on the other side of the world we will be together through prayer. Hangang sa muli – until we meet again, which God willing we will do!

Tuesday 
Arriving at the centre, the project staff were there to welcome us with Renz and Christian in the middle. Little Renz is very shy as is Christian in his own way. We laugh because I do not immediately recognise Christian as he has changed his hair style. I do not have enough hair to do this I point out – more laughter.

A tour of the buildings shows the project in full swing with pre-school children, mothers with babies and expectant mums filling the place with happy chatter. I ask Renz to show me the way and he takes my hand and pulls me along.

On to lunch and a gathering at the Estrella Falls. It seems the whole church has come along. This is really a thriving project comprising of babies to late teens and staff young at heart and so committed and enthusiastic. I am overwhelmed by it all.

The time comes for me to return back to Puerto Princesa. Renz holds his arms out to be picked up. It brings back memories of when my children were small. He will not let me put him down and his grandmother has to take him. I try hard not to become emotional and joke with Christian that I am not going to lift him. I thank everyone in the project and assure them that I am cheering them on from the side lines in the name of Christ.

Thursday
A day of good byes and a few hugs from the hotel team. I catch the hotel shuttle bus to the airport and my journey continues to Manila, Heathrow and eventually Suffolk.
It has been a wonderful, fulfilling trip. So many highlights I could not list them all. I have been blessed to meet so many good people and I go away feeling my spiritual batteries have been recharged. I hope that I am given time to continue helping the people in the Philippines.
WORDS
Tim Huband
PHOTOS
Compassion UK
---
COMMENTS
2 Comments
---
---
Article Comments
You must be logged in to post a comment.