Your Christmas greeting will be treasured and re-read, so it can be tricky to know where to begin. You may find it especially hard knowing that, in the countries where Compassion works, the soaring cost of living and ongoing impact of COVID-19 mean this has been another difficult year for the children we serve.
So, before the writer's block sets in, here are 5 handy tips to help you write an encouraging but sensitive message to your sponsored child.
5 things to share in your Christmas greeting
1. Something you're grateful for this year 
2022 has still been a very difficult year for many of us, but your sponsored child would love to hear how you've experienced God's faithfulness recently. As much as you're interested in your sponsored child's life, they're eager to find out about yours! Share something you're thankful to God for and give your sponsored child a valued insight into your life.
For example: During 2022 I've been so grateful for my church family. I've been blessed by my Bible study group, and had people delivering cake to my doorstep! 
2. How you're praying for your sponsored child
For many children we serve, the soaring cost of living and food insecurity have hit them and their families hard. We suggest reminding your sponsored child that you are praying specifically for him or her during this challenging time. Write out your specific prayers for your sponsored child's health and safety.
For example: I pray that in the year ahead, you and your family will be well. May God give you all good health and financial stability, especially during these uncertain times.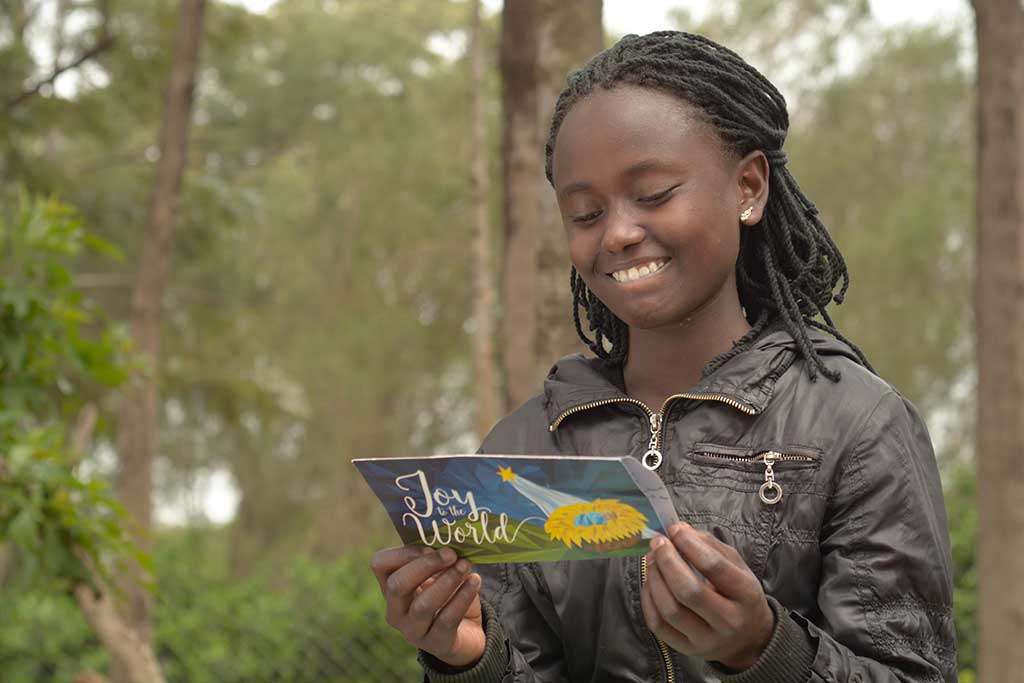 3. Why you love Christmas & how you're celebrating this year
Christmas is such a special time of the year where we reflect on the miraculous birth of our Saviour. Let your sponsored child know what you enjoy doing for Christmas and why. Explain how you'll be celebrating Christmas this year and ask how they are marking the occasion. Remind your sponsored child of the hope of the Christmas message. 
For example: I love Christmas because it reminds me that Jesus came to bring us hope that does not change! I'm not quite sure how my family will celebrate it, but I hope we'll share a Christmas meal together.
4. A Christmas selfie! 
Christmas is a great opportunity to send an updated family photo to your sponsored child! Perhaps you haven't sent in a photo of yourself before, or maybe your family has grown since the last one you sent. Regardless, why not crack out the festival Christmas hats and send a fun snap of your household. You can even hold a picture of your sponsored child to make them feel part of the family.
For example: We hope that you like our family Christmas photo. We are excited to have you in the picture with us this year! 
5. A favourite Christmas Bible verse
Remind your sponsored child of the good news of Christmas by adding one of these beautiful Christmas Bible verses to your message.
Isaiah 9:6 For to us a child is born, to us a son is given, and the government will be on his shoulders. And he will be called Wonderful Counsellor, Mighty God, Everlasting Father, Prince of Peace.
Matthew 1:21 She will give birth to a son, and you are to give him the name Jesus, because he will save his people from their sins.
2 Corinthians 9:15 Thanks be to God for His indescribable gift!
Isaiah 7:14 Therefore the Lord himself will give you a sign: The virgin will conceive and give birth to a son, and will call him Immanuel.
Luke 2:12 "This will be a sign to you: You will find a baby wrapped in cloths and lying in a manger."
Your Christmas greeting is a beautiful opportunity to encourage your sponsored child they are loved, especially during this season.
Writing a Christmas greeting for the First Time
Your words will bring hope, support and the encouragement your sponsored child needs to believe in themselves and feel valued, despite their  circumstances.
With that said, living in the digital age means that writing letters or cards can sometimes feel unnatural and it can be easy to forgo writing altogether. 
If you've never sent a Christmas greeting or are unsure about what to say we're here to help. Below are three greeting templates for you to choose from. Simply copy and paste the text into one of our Christmas Greeting designs (these can be found in your myCompassion account or on the Compassion App), customise or simply hit send.   
It doesn't matter if this is the first time you've written to your sponsored child, your words will be treasured. 
Send a Christmas greeting in 2 Minutes - Templates to Copy
Template 1
Sending you and your family lots of love this Christmas season. I pray that you and your family will be kept safe and well in the year ahead. God bless you.
Template 2
Wishing you and your family a very happy Christmas. I am thinking of you and sending love as you celebrate together. God bless.
Template 3
Happy Christmas! May you and your family know God's love surrounding you as you celebrate. I continue to pray for you to keep safe and well. With love.
"For to us a child is born, to us a son is given; and the government shall be upon his shoulder, and his name shall be called Wonderful Counsellor, Mighty God, Everlasting Father, Prince of Peace. Isaiah 9:6 
The Impact of your Christmas Message
"Christmas is my favourite season, and it always brings me happiness. But the season becomes even more special when I know that my sponsor is thinking about me and writes to me," says 11-year-old Ayu.
Ayu lives with her parents in a village, a one-and-a-half-hour drive from Manado, North Sulawesi. Yulian, Ayu's father, collects scrap metal every day to sell, while Junita, her mother, stays at home to take care of Ayu and her big brother.
Every year, Ayu's family celebrate Christmas with family traditions, first cleaning the house, then making biscuits and going to church together. But Christmas became even more special when Ayu registered in the Compassion Child Sponsorship Programme in 2015.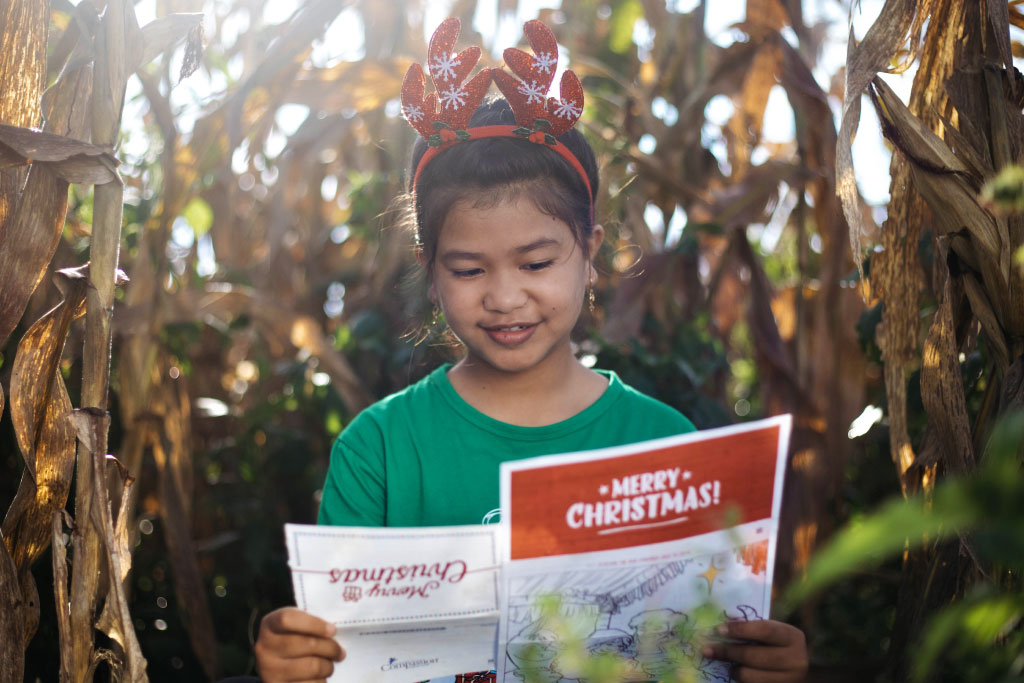 Since then, Ayu has received a Christmas letter every year from her sponsors. Their letter has become a highlight of the special season for her.
"I love to read my sponsor's letters, especially at Christmas time. My sponsor tells me about her Christmas traditions with their family, which makes me think we share something in common," says Ayu.
"My sponsor shares that every Christmas, they have a family gathering where all of their children and grandchildren come to their house. I received a special letter at Christmas when my sponsor asked me to pray for their daughter, who was waiting to deliver a baby. It makes me think that my sponsor values my prayer for their child and grandchild. I always look at my sponsor's family picture. It helps me to imagine them all."
Her sponsor's prayer requests made Ayu and her mother feel closer to them.
"Her sponsor once asked Ayu to pray for one of their children's wedding. I was amazed that she is very open to sharing her life with us. It showed me that Ayu's sponsor not only cares about helping us financially. More than that, the sponsor wants to share their life with my family," says Junita.
Thank you for giving encouragement
Your message will remind your sponsored child that they are loved and cared for—and the cards often become treasured possessions, kept for many years.
A version of this blog was originally published by our friends at Compassion Australia
WORDS
Compassion Australia
PHOTOS
Compassion International
---
COMMENTS
No Comments
---
---
You must be logged in to post a comment.