Pastor Arnel Sabolboro stands tall in front of his congregation. His words bellow around the crowded room. With his animated gestures and roaring voice, nobody's at risk of falling asleep in this church service! But behind his strong message, there's a warmth to Pastor Arnel. Today's sermon is on God's grace, something he understands more than most.
Behind Pastor Arnel's self-assured exterior lies a remarkable story. This church leader used to be a gang member. When he speaks of God's forgiveness, you can hear he is still rejoicing.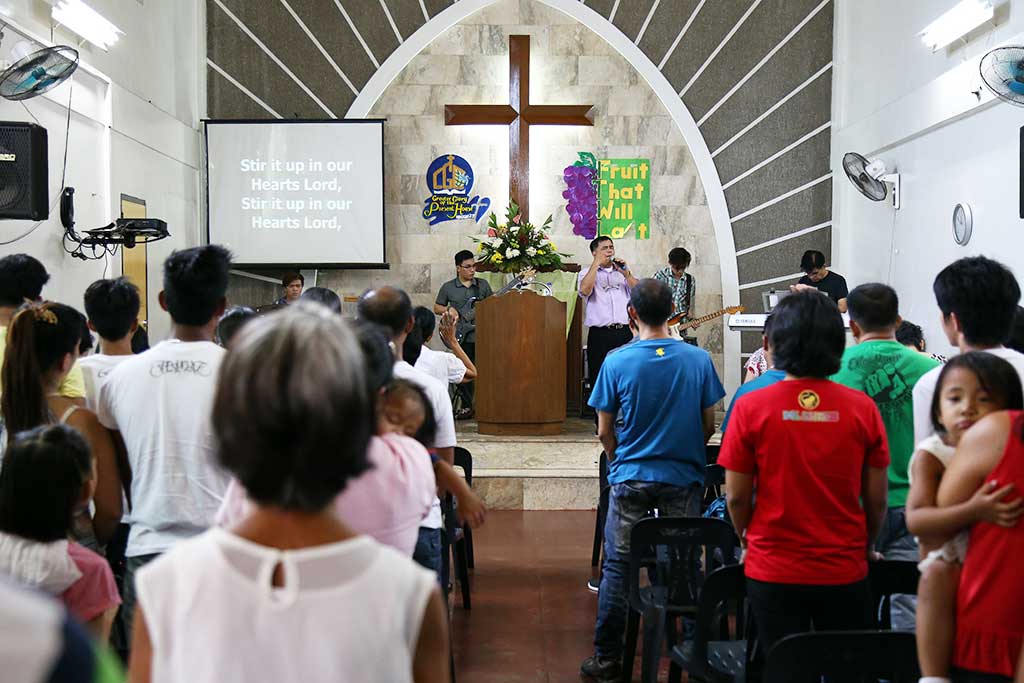 "I was the worst of the worse," explains Arnel. "I got drunk every day. I used drugs, I hung out with criminals. 
I worked as a janitor in an umbrella factory. I worked hard because I needed to sustain my vices. I smoked marijuana, took cough syrups to get high and had many girlfriends. I was a womaniser and gambled a lot."
With their father gambling away the family's income, Arnel's three sons, Anjoe, Ariel and Arie, were registered into the Compassion project run by the Christian Gospel Church in Bagong Barrio, the Philippines.
Bagong Barrio is a community notorious for raising gang members and drug dealers. And Arnel was a friend to all of them.
Arnel's wife Frances would pray long prayers asking God to change him. "I can remember hearing them, but I just slept," says Arnel.
Desperate to improve family life for the three young boys, the staff from Christian Gospel Church invited Arnel to church. They were unsurprised when he refused to come.
Even when friends made the suggestion, he was quick to declare he would never step foot in a church.  
It took the words of his youngest son to convince Arnel. "No more drinking dad," said Ariel, pleading with his father late one evening. "It's time for you to know God."
With those words, he decided to try a Sunday service but it had little impact. 
It was only when Arnel's wife invited the church leaders to hold a Bible study in their home that he began to think again. 
"I had nowhere to go so I began to regularly listen to the Bible," Arnel recalls. "I started to really listen. I asked questions and developed my faith in God."
He began to ask his wife why she was so patient with him, and so persistent in praying. "I asked her 'What is it that you have?' and my wife simply answered, 'Jesus'."
Not long after, Arnel dedicated his life to Christ and began sharing the hope he had with others. His boss at the umbrella factory was astounded when he started a Bible study inside their office. At the start his colleagues thought he was just high, but soon people realised that Arnel had changed. 
"I know it was my children who joined Compassion, but [through the partner church] I too was released," Arnel says. "I was released from womanising, from drugs, from gambling and from a wrong outlook in life. I've always thought that people who were born poor would die poor."
God has continued to work in Arnel's life in the years since. He is now the senior pastor of Gospel Christian Church, the very same Compassion church partner that reached out to his children all those years ago. 
Ariel reflects on how God has transformed his father. "I am very thankful and amazed at what the Lord did," he explains. "Especially when I remember how mean he was to me growing up. He used to always come home drunk and with no money. Today, I am proud to be his son and church member at the same time. I am blessed to see my father's passion, perseverance and dedication to God."
WORDS
Edwin Estioko
PHOTOS
Edwin Estioko
---
COMMENTS
1 Comment
---
---
Article Comments
You must be logged in to post a comment.